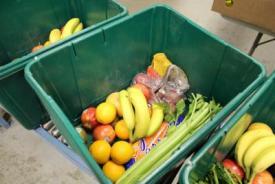 FW Johnson is now participating in the Good Food Box Program (operated by REACH Regina) as a site to place and pick up orders. The Good Food Box makes food more accessible and affordable. The boxes generally have six standard produce items: potatoes, tomatoes, lettuce, apples, oranges, and bananas. The food boxes range from $12.50 to $21.50, which is 30-50% cheaper than what you'd pay in a grocery store. Ordering is easy and picking up is even easier. 
To participate, fill out a new customer form and return it to the office along with an order form and exact change (cash only).  Order forms and money must be returned to the office by Wednesdays at noon. Your food box will be delivered the following Wednesday.  Pick up is available in room 106 from 1:00-3:30.  Please bring your own grocery bags to transport your food home.
Payments and food deliveries occur every other week.
Next Order Date:  December 11 - Delivered December 18
F. W. Johnson Food Box is coordinated by our student nurses who can be reached at goodfoodboxjohnson@gmail.com.  Responses will only be available Tuesdays and Wednesdays.