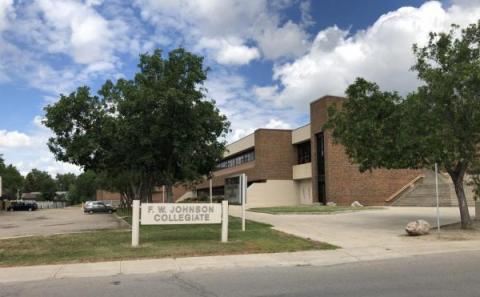 A Reputation of Excellence with Fortitude, Wisdom, and Justice
What does Fortitude, Wisdom and Justice have in common with F.W. Johnson? 
The school was named after the Honourable Frederick W Johnson, former Lieutenant-Governor of Saskatchewan.  It is his initials that tie-in with Fortitude, Wisdom and Justice.
Fortitude – the strength of character that enables you to face difficult situations with courage.
Wisdom – the ability to intelligently apply what you have learned.
Justice – the quality of being fair and honourable in all your relations with your fellowman and woman
---
F.W. Johnson Collegiate is located in and serves the eastern communities of Regina. Our school enrolment is approximately 520 students. FWJ offers a range of extra-curricular opportunities, in addition to its curricular offerings, to promote student involvement and growth. Our values of Fortitude, Wisdom, and Justice embraces the Shared Values of the Regina Public Schools - I Belong. I Want to Know. I Respect. I am Responsible.